Overview
Details mean everything. So we compromised on nothing.
Beauty's in the eye—and ear—of the beholder. So we designed the Lifestyle 650 home entertainment system to be beautiful in every way. Acoustics. Aesthetics. Craftsmanship. Simplicity. For your movies and music, it's the most uncompromising 5-speaker home theater system we've ever made.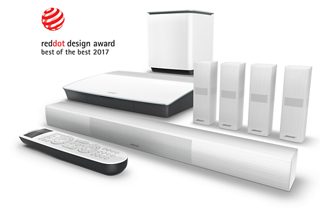 Spotlight on speakers
We have a long history of creating big sound from small packages. With OmniJewel satellite speakers—even smaller than our Jewel Cube speakers, which are also available for this system—we're rewriting that history with a new chapter on elegance. Each of these tiny speakers features a carefully milled aluminum housing with two acoustic enclosures for dual-opposing drivers. This is the key to creating our first omnidirectional speaker for true 360-degree sound and a more spacious home theater experience. It took a team of 30 people to perfect every last detail, ensuring the acoustics would work with the aesthetics. And the rear speakers? Wireless.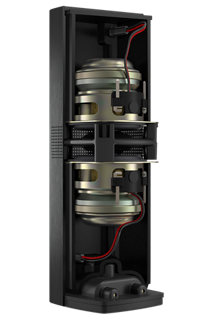 The center channel matches the sleekness of your TV and offers greater performance than previous center channel speakers. It's packed with five precision speakers and coated in an anodized aluminum finish.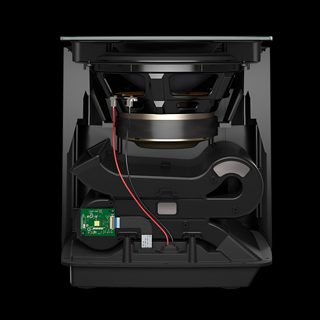 Thunderous bass. Wireless connectivity.
Of course you want that resounding bass performance for movies and music. But you don't want a monstrous piece of equipment to enable it. With its premium glass-top finish, our wireless Acoustimass module delivers on sound and style. A powerful driver and QuietPort technology combine for best-in-class performance for its size.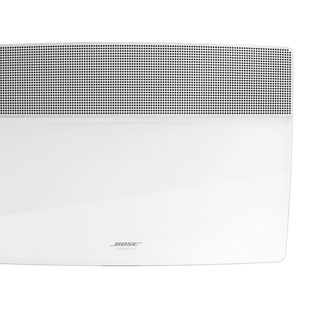 Statements in elegance, continued …
The polished glass curvature of the console has a singular style you can't ignore. But it's more than just good looks. The console houses all of your technological needs: Bluetooth® and Wi-Fi® connectivity for wireless music streaming, 4K video compatibility, 6 HDMI™ inputs and more. And it's all controlled with a universal remote.
Same system, different speakers.
Which is right for you?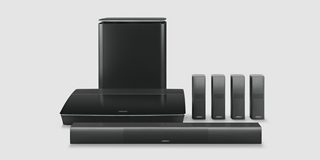 LIFESTYLE 650 SYSTEM
OMNIJEWEL SPEAKERS
360-degree output, our most spacious satellite speakers
Powerful, 21" center channel speaker
LIFESTYLE 600 SYSTEM
JEWEL CUBE SPEAKERS
Direct/Reflecting satellite speakers with angled transducers
Compact, 6" center channel speaker
Less effort, more music
With the Lifestyle 650 system, we put a lot of thought into taking the thinking out. Sure, there's the premium home theater performance that you'll love for movies, TV and sports. But when it comes to enjoying your music, you can listen whichever way you want, without worrying about which technology is best. This system features SoundTouch, which lets you play music through your Wi-Fi network for instant in-home listening. Or listen directly from a phone or tablet using a Bluetooth connection.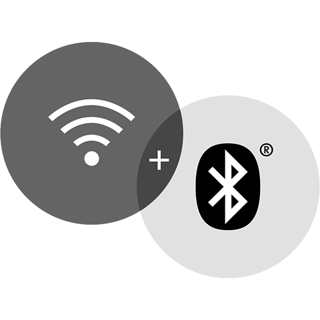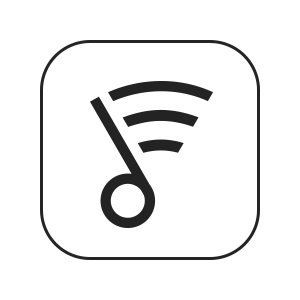 Fast, simple control of all your music

Experience your favorite music from your SoundTouch speaker with the SoundTouch app. SoundTouch lets you take total control of your listening experience, right from your smartphone or tablet. Browse popular music services like Spotify® and Deezer, Internet radio stations through TuneIn, or your stored music library. Easily personalize presets for one-touch access to the music you love, and control one or many SoundTouch speakers around your home.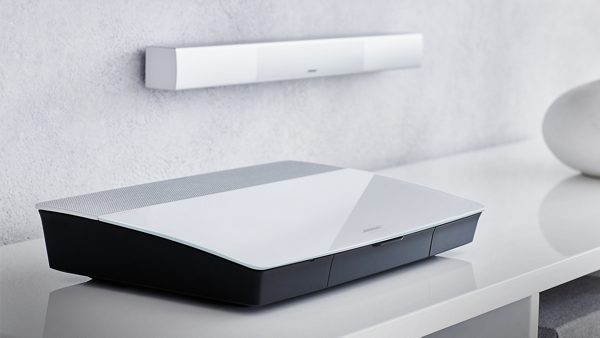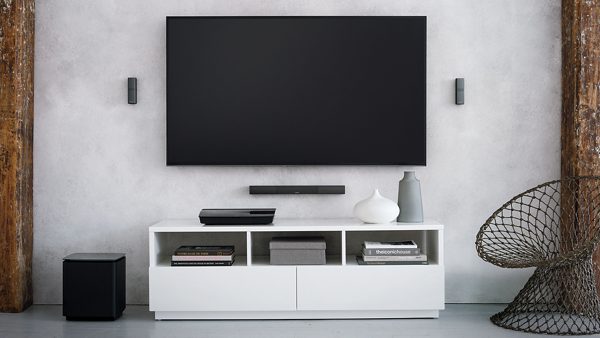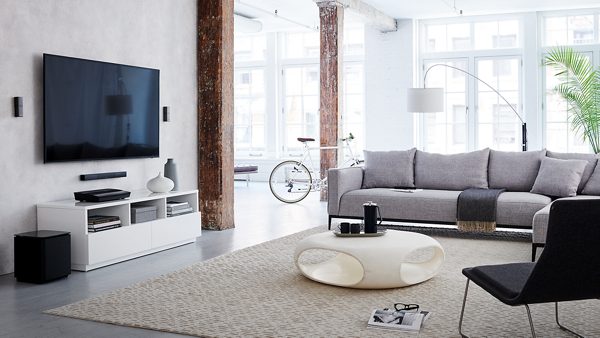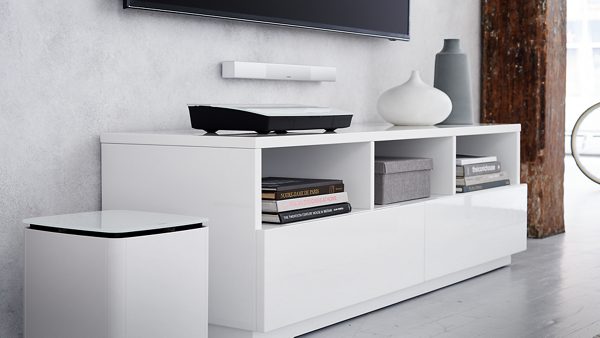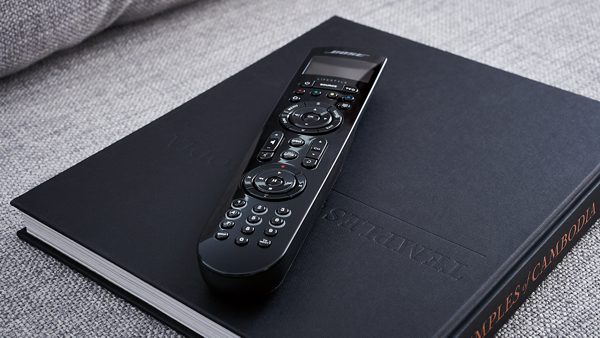 Engineered to keep it simple
Unify technology walks you through setup with guided onscreen messages, and ADAPTiQ audio calibration fine-tunes the sound specifically to your room and the things in it. So when you hear it, you hear it at its absolute best. The rear speakers and bass module even connect wirelessly for easier placement.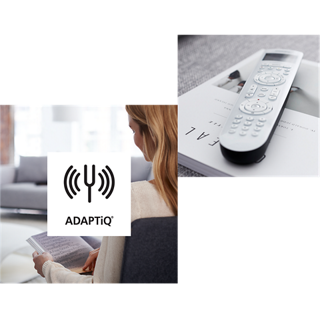 Specs
Dimensions/weight
Console:

40.59 cm W x 6.5 cm H x 25.8 cm D (4 kg)

OmniJewel speakers (each):

4.67 cm W x 14.66 cm H x 4.67 cm D (with foot installed) (0.35 kg)

OmniJewel center speaker:

54.2 cm W x 4.82 cm H x 4.68 cm D (without feet) (1.2 kg)

Acoustimass wireless bass module:

29.5 cm W x 32.5 cm H x 29.5 cm D (13.6 kg)

Wireless receivers for rear speakers:

16.6 cm W x 4.1 cm H x 7.8 cm D (0.28 kg)
Additional details
Supported audio formats: Dolby Digital, Dolby Digital Plus, Dolby TrueHD, DTS, Multichannel PCM.

Video source compatibility: Support for six 4K/60 video sources (HDMI 2.0/HDCP 2.2)
Inputs and outputs
Rear panel of the console

1 HDMI™ output with Audio Return Channel (ARC)

5 HDMI inputs

2 optical digital audio connections

2 coaxial digital audio connections

2 analog L/R audio inputs

1 3.5 mm connection for the Acoustimass module

1 data port

1 IR repeater port

1 Ethernet port for SoundTouch and software updates via a network

1 USB connection for software updates only
1 HDMI input

1 3.5 mm jack for ADAPTiQ system and headphones

1 power button

1 source button

1 system setup button
What's in the box
Console

4 OmniJewel speakers

OmniJewel center speaker

Acoustimass wireless bass module

Universal remote control

Front speaker cable

2 rear speaker cables

Center speaker cable

2 wireless receivers

ADAPTiQ headset

IR emitter

HDMI cable

4 AA batteries

Console power supply

4 Power cords

4 Adhesive feet

Screwdriver

Owner's guide
FAQs
What is the ADAPTiQ audio calibration system?
The ADAPTiQ audio calibration system is a proprietary Bose technology that customizes your Lifestyle system's sound to the unique size, shape and furnishings of the room it's in to ensure it delivers a high-quality performance.
How does the Unify intelligent integration system work?
Once a video connection is made between the Lifestyle control console and your TV, the Unify system walks you through initial system setup, step by step. As you're connecting components to the control console, the system recommends the best connectors via onscreen messages. It even confirms that the connection was made properly. The Unify system is available at any time to help you connect and/or disconnect your entertainment sources and program your remote.
Can Lifestyle systems upscale video?
No, Lifestyle systems do not upscale video.
Are Lifestyle systems compatible with 4K video?
Yes, your Lifestyle system supports 4K resolution.
Which audio formats do Lifestyle systems support?
Lifestyle systems support Dolby Digital, Dolby Digital Plus, Dolby TrueHD, DTS and Multichannel PCM.
Is it possible to adjust bass and treble?
Yes. The bass can be controlled with the bass button on the universal remote control or via the settings menu in the SoundTouch app. The bass, treble, center and surround levels can be adjusted through the universal remote control.
What is the range of the wireless link between the console and the Acoustimass module?
The wireless range between the console and the Acoustimass module is about 30 feet (9 meters).

Can the Acoustimass module be wired?
Yes. The Acoustimass module can be wired to the console with a 3.5 mm shielded audio cable.
What placement guidelines should be considered to ensure optimal audio performance of the Acoustimass module?
For best sound quality, the Acoustimass module should be placed on the floor against the same wall as the television and center channel, with an electrical outlet nearby for the power cord. The module should not be placed on a shelf or table.
Do Lifestyle systems have Bluetooth® and NFC built-in?
Yes. The NFC chip is built-in in the control console near the Bose logo on top of the console.
Do the speakers need to be hard-wired to the Lifestyle control console?
The front left and right satellite speakers and the center speaker need to be hard-wired to the console. The rear speakers connect wirelessly using the wireless connectors. The connectors have a range of about 32 ft (about 10 m) and connect via a proprietary 2.4GHz radio.
What kind of batteries does the remote control use?
The remote uses 4 alkaline AA batteries.
How do I access SoundTouch music with the universal remote?
You access SoundTouch music by selecting the "SoundTouch" button or select it from the source menu—similar to how you access other entertainment sources. From there, you can select one of your presets or browse the Recents list. The 1 through 6 buttons on the remote also will play a preset once the system is turned on and the SoundTouch source is selected.
Can I stream video from the Internet, like Netflix, to the Lifestyle system using SoundTouch?
No. SoundTouch is designed to stream audio/music formats only. It does not stream Internet-video sources or videos stored on a computer. For this, you would need to use a streaming device such as Apple TV or Roku.