SoundWear Companion speaker
SoundWear Companion speaker
Recommended retail price
Current Price
Overview
Sure, you want music with you at all times. But you don't always want to slap on headphones and shut out everything else around you. You don't have to. The new SoundWear Companion speaker was designed for you. This wearable speaker offers the best of both worlds—convenience and connection—in a way that allows you to be present with your music as well as your surroundings. It rests comfortably on your shoulders, with sound that is full and clear to you—yet minimizes the sound for others. And with legendary waveguide technology at its core, that performance is easy to trust.

AWARE OF YOUR SURROUNDINGS.
Put them on. Walk around. Take a call or ask Siri a question. This speaker gives you freedom from your devices and keeps you closer to your surroundings at the same time.

WEARABLE TECH—WITH A FAMILIAR TWIST
With some wearables, it's fashion before function. Not in this case. Every part of this speaker is meticulously engineered for better sound. But even a groundbreaking product can benefit from a proven technology—like our waveguide technology. So we used two 11-inch waveguides to pump out what other wearable speakers don't—deep, rich sound.

A LONG HISTORY OF INNOVATION, CONTINUED …



It's interesting, when you look back on it. Stereo speakers that reproduced more sound from the back of the speaker than the front. Compact, single-speaker stereo systems that replaced stacks of equipment. Noise cancelling headphones that changed just about everything. These are just a few of the breakthroughs we've introduced in our long history of innovation. Until you tried one of these, you likely couldn't know how much of a difference it would make. And that's why we push—to make products that make your life better in ways you can't imagine.
The SoundWear Companion speaker is just the latest example. Try it—then try to imagine a day without it.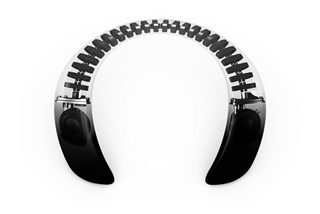 3-button control

Volume up. Volume down. Play/Pause. Take a call. Talk to Siri.

Waveguide technology
Drivers push air through two flexible 11-inch waveguides in the neckband to ports on opposite ends. For deep sound all around you.

Upward-facing speakers
Pointed toward your ears, maximizing what you hear while minimizing it for others.

Advanced microphone
You hear them and they hear you—clearly.

Twist tested.
Form fitted.
We designed the technology that delivers so much bass to bend with the neckband. And used special materials like a bend-and-stay steel wire encased in medical-grade silicone that has just the right amount of low-spring torsion to stay form-fitted to your shoulders. You'll find it's so comfortable all day long, you may forget you're wearing it.

Swappable. Stretchable. Durable.
The speaker isn't the only thing we obsessed over. Our custom designed covers are acoustically transparent, so nothing gets in the way of the sound. Static free so your hair and clothing don't cling to it. And four-way stretchable so it fits the speaker snugly. Your speaker includes a Black cover. Other optional colors available are Heather Gray, Midnight Blue and Dark Plum.

One app. Complete control.
The Bose Connect app gives you easy access to everything your product has to offer. Get tips, unlock product features and personalize your settings, so you can spend more time enjoying the music instead of setting it up.
You can also easily manage all your Bluetooth connections. Go from taking a call on your smartphone to listening to music on your tablet to watching a movie on your laptop with one single swipe. And if you're listening to podcasts or talk radio, you can turn on Dialogue Mode to enhance the quality of speech.

Specs
SoundWear Companion speaker

SoundWear Companion speaker cover – Black

USB charging cable
Support
Owner's guide
Quick start guide